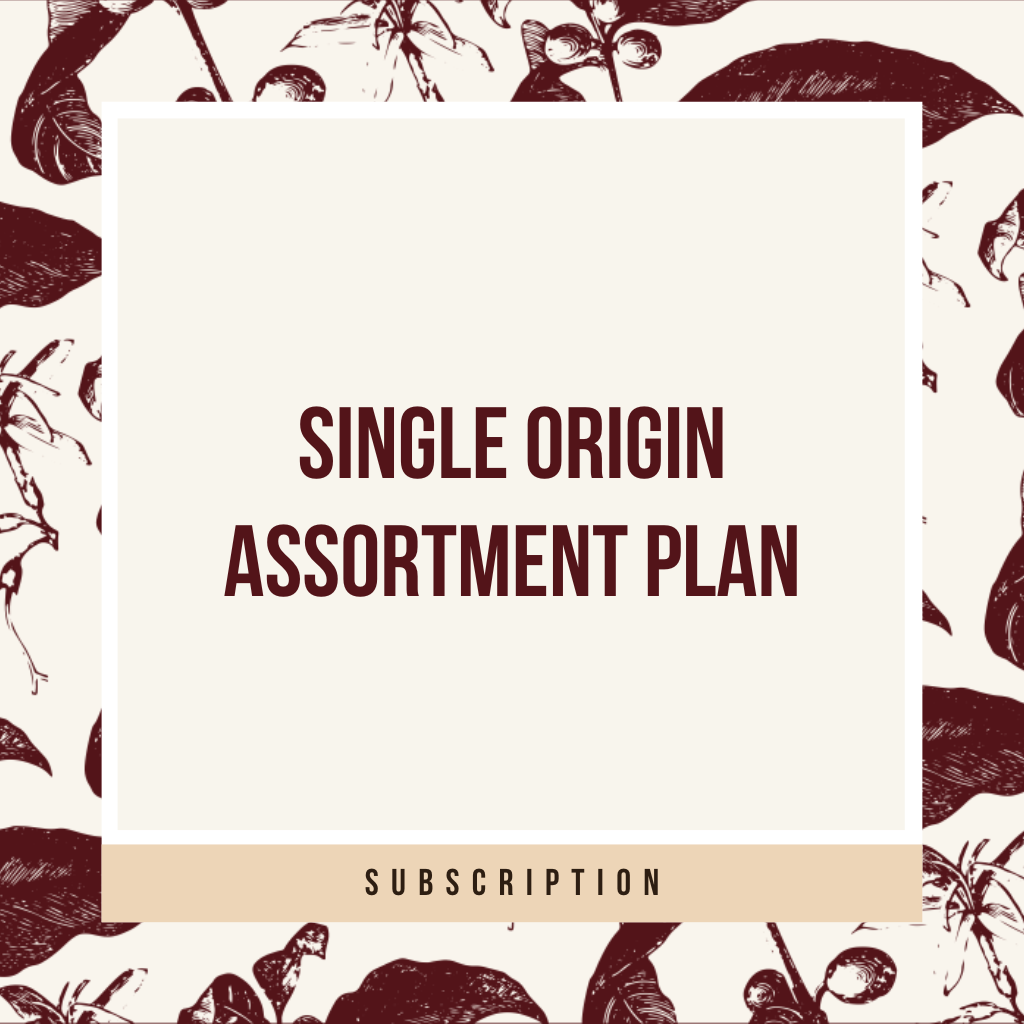 Single Origin Assortment Plan
Quality beans sourced from coffee powerhouses such as Ethiopia, Nicaragua, Indonesia and more.
We feature a carefully curated list of Single Origin coffees sourced from renowned producer nations such as Ethiopia, Nicaragua, Indonesia and more. With this plan, you can explore coffees from diverse origins, try different coffee profiles and discover new flavours so you'll never get bored with the same coffee. 
HOW IT WORKS
.
It's really simple. Just select a bag quantity and pick your delivery frequency (you can choose between intervals of 1 to 4 weeks) and you're ready to go! Changed your mind? The settings can be easily changed too.
There is no binding period as payment is charged per order, and with the ability to pause, fast-track, reschedule or even cancel your subscription plan to suit your needs, this is all the convenience and flexibility you need to get your regular coffee fix! What's more, we may treat you to our seasonal coffees so you get to try out more coffees and discover the perfect cup for you.
Do note that while most of our current coffees are packed in 250g bags, these higher-value coffees may come in smaller bags. Learn more about our subscriptions
here.
We recommend grinding the beans before brewing as freshly ground coffee tends to have a better flavour and aroma. However, you can still opt to have your beans ground by us.
Enjoy a subsidised fee of $2 for delivery (vs. $5 for a one-time purchase).
Your first subscription order will be fulfilled within 2-5 working days if there is ready stock. If the coffee is unavailable, your order (if placed before 12pm on Friday) will be placed into next week's roasting schedule and dispatched in the same week.
Your recurring orders will be sent out on your set schedule. An email will be sent 3 days before your card is charged as per the scheduled dispatch.
For subscription,please do not use PayPal Express and PayNow checkout option.
Our Roastery
100% of Bettr Coffee branded coffees are intentionally sourced from smallholders farmers and sustainable source to support the best practices. We roast to order at our own ISO 22000-certified coffee roastery and cup to ensure quality after every roast.
"Coffee tastes have changed so much since 2012. Since then, we began working at a gradual pace, turning up the brightness a little, season after season. Today, we can proudly craft a coffee with notes of lemon meringue, strawberry or passionfruit. We find that people on both sides of the counter are learning and developing their palates." -Pamela Chng, Founder
Choose A Coffee Plan That Suits Your Brewing Methods
Choose A Coffee Plan That Suits Your Brewing Methods
FAQs
With every coffee subscription, you'll receive a 250g of freshly roasted coffee beans at the interval of your choosing. We currently offer subscriptions at 1, 2, 3 or 4 week intervals (frequency), and you are also able to specify the number of bags you'd like per delivery (quantity) - if you'd like more! This is a recurring order with no binding period, and you will have the flexibility to edit the subscription based on your coffee consumption level.
Subscribe and save 10% off the regular price of any specific Signature House Blends or Single Origin coffees, and enjoy doorstep delivery at a subsidised fee of $2 compared to a $5 delivery fee for one-time purchase. 
We also offer the Signature Blend Assortment Plan, Single Origin Assortment Plan and Roaster's Choice Plan (Single Origin & Blend) to let you enjoy a wide variety of coffee so you'll never get bored with the same coffee. 
These are the variety of coffee rotations you can look forward to receiving with each delivery:
Signature Blend Assortment Plan: Bold Heart, Heart Blend and Versa Single Origin Assortment Plan: a curated series of single origin beans for you to discover coffees and tasting notes that appeal to your palate.  
Roaster's Choice Plan (Single Origin & Blend) : a rotation of signature blend coffees and seasonal single origin coffees. This allows you to taste the diversity in coffee ranging from a bold, heavy blend to a fruity origin.
Note: To register for your subscription service, kindly make your payment using a registered PayPal account. Using the PayPal Express Checkout option will only result in a one-time transaction/order.
Yes, you can manage subscriptions independently from each other on your account page.
The indicated subscription price is per 250g bag of coffee beans. To ensure that you receive your freshly roasted beans in a timely manner, from 16 August 2021 onwards, we have moved completely to a doorstep delivery service at a subsidised fee of $2 for all subscription orders.
Your card will only be charged on the automated charge date, based on your subscription frequency. A reminder email will be sent 3 days prior to the next charge date to confirm your next coffee delivery. For example, if your delivery frequency is every week, we'll bill you every 7 days from the last charge date.
We understand your routine can change and your coffee consumption may vary. You can easily change your setting by logging into your account and click "Manage Subscriptions" on the My Account page. Click "Edit" to change next charge date, change product quantity and/or change delivery schedule. Alternatively, you may drop us a note at hello@bettrbarista.com for assistance.
You can reschedule your next coffee delivery and also adjust the subscription frequency and quantity as long as it is before the the charge date. Once payment has been made, we will proceed with roasting and delivery. You may email us at hello@bettrbarista.com to check on the status of your subscription.
You can either reschedule the next charge date to suit your requirements or drop us a note at ask @bettrbarista.com for assistance. 
For Coffee Bean subscriptions, once your recurring payment has been verified, your order will be processed within 1-2 working days. Once your order has been processed, an automated email will be sent to you with a tracking number to check on the status of delivery. You can expect to receive your coffee 2-3 days thereafter. All coffee beans and merchandise orders will be shipped using door-to-door courier service by our courier partner, Shippit.
For Cold Brew subscriptions, orders are delivered every Wednesday, between 9am - 4pm. Orders received by 12 pm on Tuesday, will be delivered on Wednesday in the same week and anything after, will be delivered on the Wednesday of the next week. Please ensure that someone will be around to receive your delivery as our Cold Brew needs to be refrigerated immediately to retain its freshness and quality.
No, you may cancel your subscription if you no longer wish to receive your order.