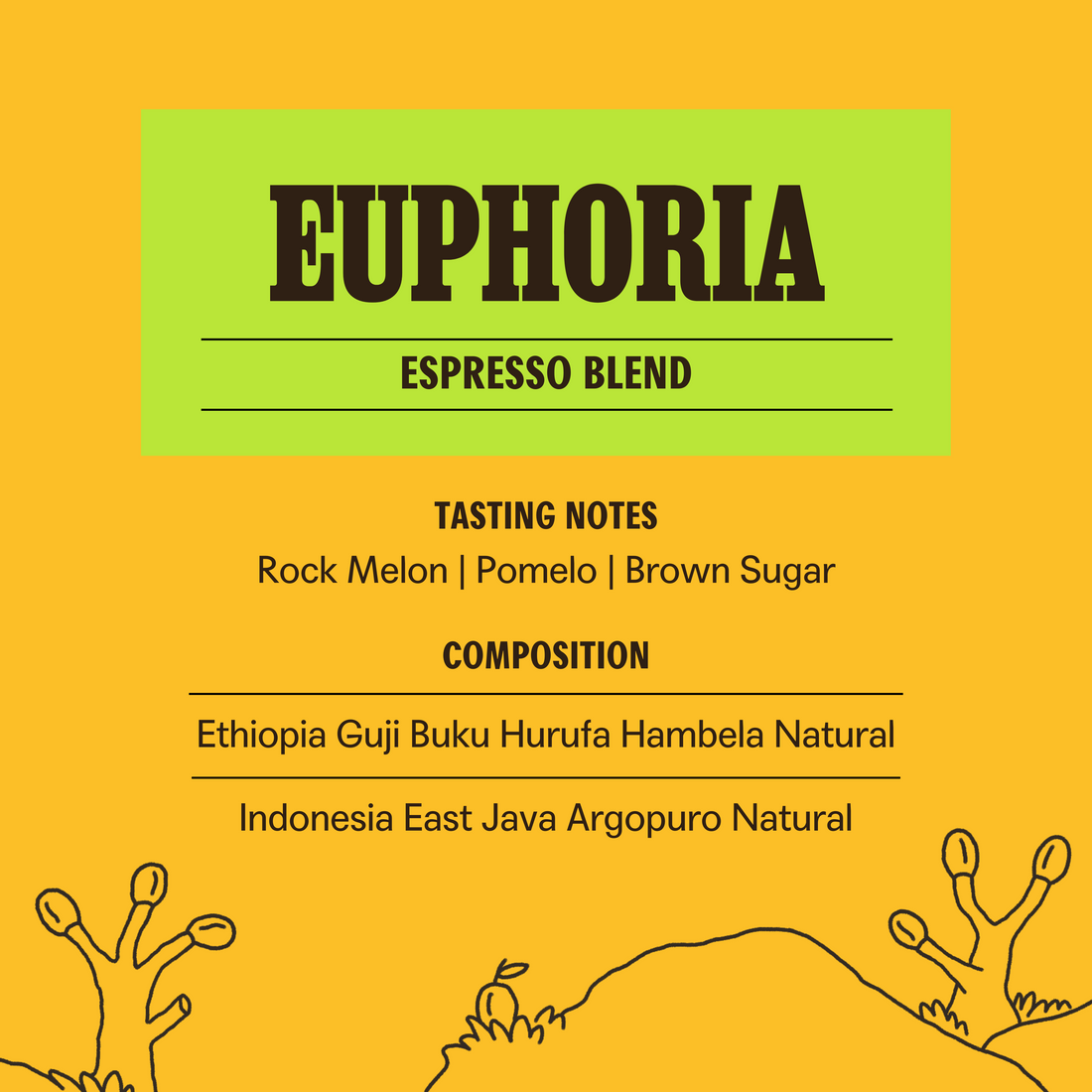 Euphoria (Formerly Bettrsweet Blend)
Rock Melon, Pomelo, Brown Sugar
Type: Blend
All ready to greet the new day with your best foot forward and your spirits elevated? Bettr times are here to stay with Euphoria — a delightful, enticing brew that is packed with positive energy via naturally-processed beans from two of the most renowned coffee producers, Ethiopia and Indonesia.
We recommend grinding the beans before brewing as freshly ground coffee tends to have a better flavour and aroma. However, you can still opt to have your beans ground by us.
Roasting & Shipping Schedule
Our coffee beans are freshly roasted weekly and limited stocks are made available for online orders. If available, your order will be processed and dispatched within 1-2 working days. You will receive an automated email with a tracking number when your order has been picked up by our delivery partner. You should receive your order 1-3 days thereafter.
If the coffee is unavailable, your order will be placed in the roasting schedule of the following week and dispatched in the same week. Our cut-off time for orders is 12pm on Friday.
Standard Delivery
- We have a standard delivery of S$5. Free for orders $50 and above
International Shipping
Shipping of this coffee is available to the USA and would take additional 3 - 8 days. Shipping rates calculated based on weight and destination will be shown at checkout. Shipments are subject to duties and taxes levied by customs in the destination country and the costs are born by the receiver. For shipping to other countries, please drop us an email at ask@bettrbarista.com
Self-Collection
* Self-Collection is available at our academy at 9 Harrison Rd, #04-01, Singapore 369651. You will receive an email notification when your order(s) is/are ready for collection.
* Collection can be made within 5 working days, 12pm - 4pm on Monday to Friday, 10am-1pm on Saturday (except Public holidays).
* Please collect your order within the week of receiving your pick-up notification to ensure the freshness of your coffee.
Please see here for more information.
HOW IT WORKS.
It's really simple. Enjoy 10% off every future bag when you subscribe to your favourite coffee. Just select a bag quantity and pick your delivery frequency (you can choose between intervals of 1 to 4 weeks) and you're ready to go! Changed your mind? The settings can be easily changed too.
There is no binding period as payment is charged per order, and with the ability to pause, fast-track, reschedule or even cancel your subscription plan to suit your needs, this is all the convenience and flexibility you need to get your regular coffee fix!
For subscription, please do not use PayPal Express and PayNow checkout option.
Learn more about our subscriptions here
ABOUT THIS COFFEE
Composition

Ethiopia Guji Buku Hurufa Hambella Natural
Indonesia East Java Argopuro Natural

Roasted for

Filter & Espresso
Acidity

Light

Medium

High

Roast

Light

Medium

High

Body

Light

Medium-light

Heavy
IMPACT-DRIVEN COFFEE PARTNER
Belift Green Beans
The Indonesian component of this blend comes from Tlogosari village on the foothills of Mt. Argopuro in East Java. Working with Belift Green Beans, a group of next-generation Indonesian coffee professionals committed to developing the quality and sustainability of their coffee, this strategic partnership also marks Bettr's first foray into this sprawling archipelagic nation with a rich tradition in coffee cultivation.
IMPACT
Pak Muhlisin, the farmer lead for Argopuro, is a native of the village. He pursued an education in agricultural science and after a successful career, decided to bring his multi-faceted experience in the specialty coffee industry back to his hometown. A non-profit cooperative, Pokmas Walida, has been set up by the villagers for the community's well-being, funnelling proceeds from sales into projects like a school that caters to the needs of villagers.
IMPACT-DRIVEN COFFEE PARTNER
Lulo Coffee
The naturally-processed Hambela component of the coffee comes from our direct trade partner, Lulo coffee. A vertically integrated Ethiopian coffee producer, they pride themselves on working directly with farmers to create an efficient value chain that also builds direct relationships between farmers and roasters.
Lulo's business is predicated upon the Lulo Promise – a heartfelt pledge to pass on most of the income – up to 88% – to farmers, and to assist smallholders with larger than average farm sizes to directly become farmer-exporters. Through the Lulo Promise, they have helped identify promising single farmers with a minimum holding of two hectares and worked ceaselessly with them to produce high quality, truly traceable single farm micro-lots, while matching them with appropriate markets globally. In essence, this arrangement ensures absolute transparency in price, quality, and traceability, both to the farmer and the buyer.