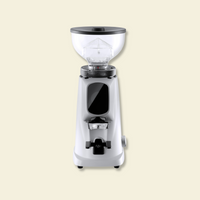 Fiorenzato Allground Classic Grinder
Equipped with a revolving ring nut that can be adjusted to your brewing needs, the Fiorenzato Allground Classic Grinder is the perfect tool to help you create the perfect cup. With three different grinding options and endless combinations, Allground's burrs enable you to achieve the right grind texture to your preference.
Your order will be processed and dispatched within 1-2 working days. You will receive an automated email with a tracking number when your order has been picked up by our delivery partner. You should receive your order 1-3 days thereafter. For return and exchange policy, visit our
FAQ page.
Self-Collection
* Self-Collection is available at our academy at 9 Harrison Rd, #04-01, Singapore 369651. You will receive an email notification when your order(s) is/are ready for collection. * Collection can be made within 5 working days, 12pm - 4pm on Monday to Friday, 10am-1pm on Saturday (except Public holidays). * Please collect your order within the week of receiving your pick-up notification.
About
Dimensions

8.5 x 6.3 x 15.3 (WxDxH)
Colour

Deep Black, Arctic White Matte
Features/ Specification
Hopper Load Capacity

250g

Power

250 Watts

Voltage

220-240V - 50 Hz

Fork

adjustable, with support

Burrs type

flat with titanium coating

Burrs diameter

64 mm

Burrs revs

1400/min (50 Hz) - 1600/min (60 Hz))

Dose adjustment

in seconds

Burrs life

1400kg
Comes with a 1-year manufacturer's warranty

Burrs are designed and produced internally by Fiorenzato, and engineered to offer maximum performance for every granulometry

Long-lasting and state-of-the-art, for up to 1.400kg of coffee

Burrs made with m340 steel

Titanium coating